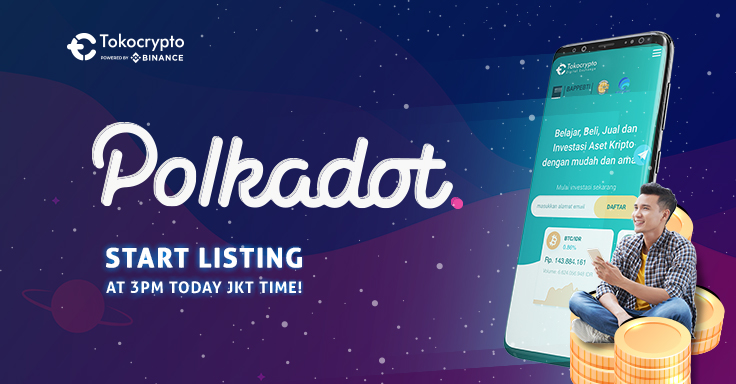 Hi Tokonauts!
We are excited to announce that today, August 28, 2020, Polkadot (DOT) is now listed on Tokocrypto. Users can trade DOT against BTC, USDT and BIDR.
Trading started August 28, 2020 at 15.00 WIB
About Polkadot :
DOT are the token native to the Polkadot network for the purpose of carrying out the key functions of the platform.

DOT holders will have certain functions within the Polkadot platform, including:
The ability to act as a validator, collator, nominator or fisherman.
The ability to participate in the governance of Polkadot.
The ability to be a collator for a parathread by making bids for block inclusion that are denominated in DOT.
The ability to participate in the decision-making process in relation to global upgrades and/or changes to Polkadot.
Stay tuned for more information on the official Tokocrypto channel:
Telegram: Official Group Tokocrypto
Twitter: Twitter Tokocrypto
Facebook: Official Facebook Tokocrypto
Instagram: Instagram Tokocrypto
YouTube: Youtube Tokocrypto
LinkedIn: LinkedIn Tokocrypto