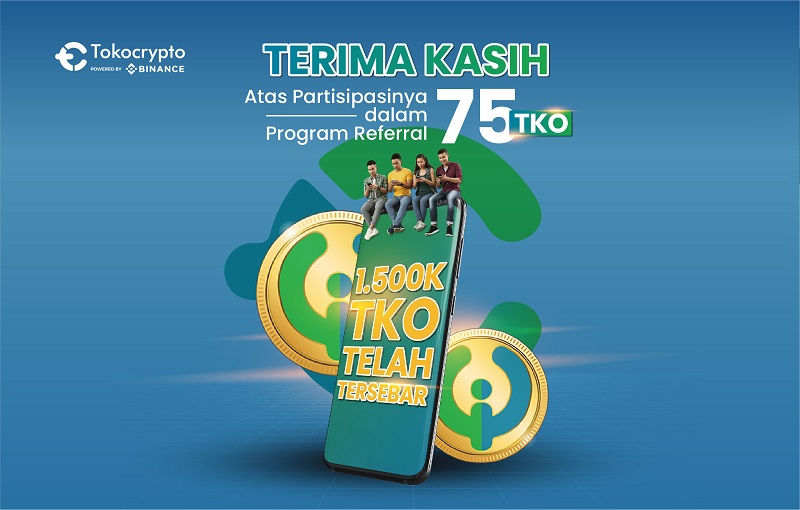 Hi Tokonauts!
Thank you for the remarkable support from Tokonauts. Since the TKO Referral Program was launched in August 2020, 1.500.000 TKO has been distributed now. Not only from our referral program, but also from other exciting programs that had been run.
With this achievement, you have been helping TKO known publicly, and reached one of TKO long term plan milestones, until TKO can be traded freely.
By 1.500.000 TKO has been distributed successfully, we would like to announce that this referral program with a prize of 75 TKO will stop running starts on Tuesday, December 29 2020 at 23:59 WIB. For those of you who have a referral, you are still entitled to be granted the rewards, only if you fulfill all the conditions before this program officially ends.
You are still able to collect TKO by joining lots of interesting programs from Tokocrypto, can be from our Social Media such as; Twitter and Facebook, and also from our community activity; AMA, or our offline and online event.
As a replacement, Tokocrypto will launch a new Referral Program for Tokonauts! which will give you passive income for the rest of your life.
Don't Miss it! Register now!
#SalamtotheMoon
Stay tuned for more referral program information from Tokocrypto!
Telegram: Official Group Tokocrypto
Twitter: Twitter Tokocrypto
Facebook: Official Facebook Tokocrypto
Instagram: Instagram Tokocrypto
YouTube: YouTube Tokocrypto
LinkedIn: LinkedIn Tokocrypto