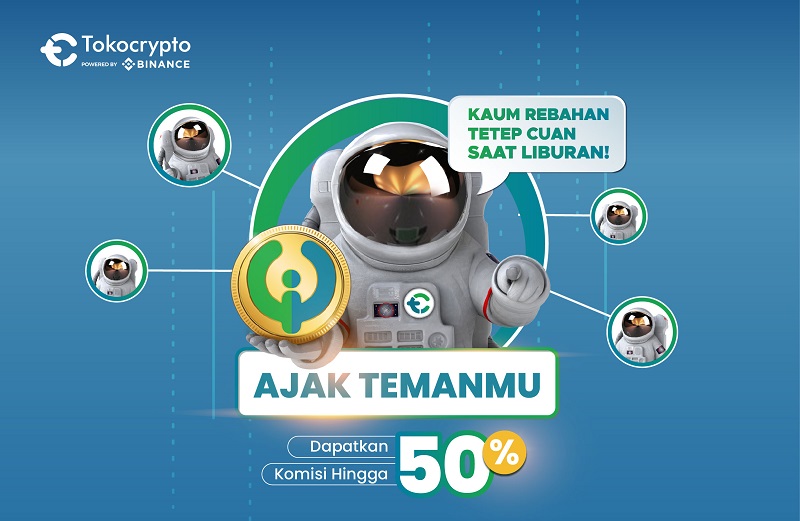 Hi Tokonauts,
Tokocrypto is looking for the best partners in the industry to work with as part of the referral program, our initiative to grow Indonesia's cryptocurrency industry. Tokocrypto presents the new commission-based referral program which allows you to get up to 50% passive income from the people you refer.
You can earn up to 50% by sharing your referral code. Not limited to that, you can share the commission with people who used your referral code up to 20% and also receive 30% of their transaction fees every time they do cryptocurrency trade.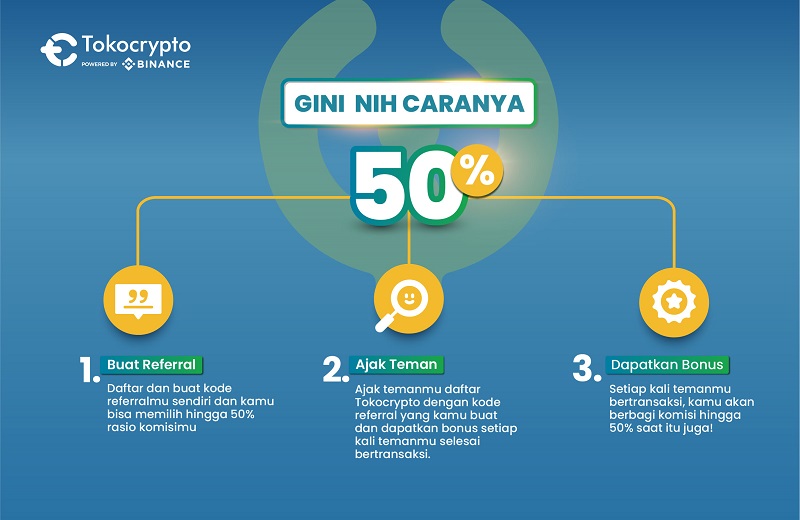 The steps to get the referral code is easy! Go to the referral landing page and choose the amount of commission that you want to earn and share. Make sure that you have passed KYC Level 1, so you will be able to start sharing this referral code.
As the current referral code is different than the previous one, make sure you have the updated referral code before sharing it with everyone. You will receive the new code, link, and also QR Code picture which can be shared with families, friends, also, colleagues who want to be part of the Indonesian crypto space.
After they are using the code during registration, you will start to earn passive incomes from every transaction activity in any cryptocurrencies.
Let's join the hype! Register to Tokocrypto now and share your referral code!
#SalamtotheMoon
Terms and conditions:
Applies to all Tokocrypto customers who successfully passed KYC Level 1

Tokocrypto customers will get 20% of commission at the beginning. To earn up to 50% commission, Tokocrypto customers must be part of TKO Angels with condition of having a minimum of 50 referees.

TKO Angels registration will be start on W1 January 2020

Referral code can be generated through Tokocrypto website temporarily.

Terms and conditions can be changed at any time without any notice
Stay tuned for more updated information's on our official channels:
Telegram: Official Group Tokocrypto
Twitter: Twitter Tokocrypto
Facebook: Official Facebook Tokocrypto
Instagram: Instagram Tokocrypto
YouTube: YouTube Tokocrypto
LinkedIn: LinkedIn Tokocrypto