What is Cosmos (ATOM)?
Cosmos bills itself as a project that solves some of the "toughest problems" facing the blockchain industry. It aims to offer a proof-of-work protocol solution that is notoriously "slow, expensive, scalable and environmentally dangerous", as used by Bitcoin, by offering a connected blockchain ecosystem.
Other objectives of the project include making blockchain technology less complex and difficult for developers thanks to a modular framework that demystifies decentralized applications. Lastly, the Interblockchain Communication protocol makes it easy for blockchain networks to communicate with each other - preventing fragmentation in the industry.
The origins of Cosmos can be seen from 2014, when Tendermint, a core contributor to the network, was founded. In 2016, the Whitepaper for Cosmos was published - and a token sale was held the following year. ATOM tokens are obtained via a hybrid proof-of-stake algorithm, and they help keep Cosmos Hub, the project's flagship blockchain, safe. This cryptocurrency also has a role in network governance.

Today's Cosmos price is $ 7.68 USD with the trading volume in the last 24 hours of $ 553,155,947 USD. Cosmos is down 7.93% in the last 24 hours. Its current rating is # 26, with a market cap of $ 1,608,527,869 USD. It has a circulating supply of 209,377,454 ATOM coins.
Last update: 26/01/2021
Latest update: Coinmarketcap
What makes Cosmos (ATOM) unique?
A major concern for some of the crypto industry centers on the degree of fragmentation seen in blockchain networks. There are hundreds of people, but very few of them can communicate with each other. The goal of Kosmos is to change that by making it possible to communicate with each other on the blockchain network.
Cosmos has been described as "Blockchain 3.0" - and as mentioned earlier, its big goal is to ensure that its infrastructure is easy to use. To this end, the Cosmos software development kit focuses on modularity. This allows the network to be easily built using existing code snippets. In the long term, complex applications are expected to be created as a result.
Scalability is another priority, which means that substantially more transactions can be processed in a second than older blockchains like Bitcoin and Ethereum. If blockchains are to achieve general adoption, they have to be able to cope with existing demand as well as payment processing companies or websites - or even better.
Trader Review
Cosmos ATOM
Rapid adoption is necessary when problems arise, especially in the areas of scalability and interoperability. Cosmos Blockchain, is the answer to solving these problems and taking blockchains to the next level.
Cosmos aims to be an "internet blockchain" that will solve this problem forever. The Cosmos architecture consists of several independent blockchains called "Zones" which are attached to a central blockchain called "Hub".
"This zone is powered by Tendermint Core, which provides a high-performance, consistent, secure PBFT-like consensus engine, where a strict fork of liability guarantees applies to malicious actor behavior. Tendermint Core's BFT consensus algorithm is well suited for scaling public proof-of-stake blockchains." An excerpt from the Cosmos white paper.
Tendermint: Fuels that Run the Cosmos
Blockchain Tendermint is a variant of PBFT which is Practical Byzantine Error Tolerance.
The Byzantine Fault Tolerance System or BFT is a system that has successfully answered the Byzantine Common Problems.
"Tendermint delivers outstanding performance. In a benchmark of 64 nodes distributed across 7 data centers on 5 continents, on a commodity cloud instance, Tendermint consensus can process thousands of transactions per second, with commit latency in the order of one to two seconds. In particular, performance is more of a thousand transactions per second is maintained even in harsh adversarial conditions, with validators crashing or broadcasting maliciously crafted voices. "quotes the Cosmos white paper.
Benefits of Tendermint
Tendermint can handle transaction volumes at a rate of 10,000 transactions per second for 250byte transactions.
Client security better light and simpler which makes it ideal for mobile and IoT use cases. In contrast, the Bitcoin lightweight client needs more work and has a lot of demand which makes it impractical for certain use cases.
Tendermint has a liability stopping such attacks as spending money. da and remote censorship that is not at stake.
Tendermint is implemented through the core of Tendermint which is an "application agnostic consensus engine." It can essentially turn a deterministic blackbox application into a distributed replicated blockchain. Tendermint Core connects to blockchain applications via the Application Blockchain Interface (ABCI).
Cosmos architecture will follow the Hub and Zone method. There will be multiple parallel blockchains connected to one central Hub blockchain. Think about the Sun and the solar system.
The Cosmos Hub is a distributed ledger where individual users or Zones themselves can store their tokens. Zones can interact with each other via the Hub using IBC or Inter Blockchain Communication.
Obviously, because Hub plays a vital role in the Cosmos blockchain system, its security is of utmost importance. Because of this, it is guaranteed by a globally decentralized group of validators. This set can withstand attacks as severe as continental network partitions or nation-state sponsored attacks.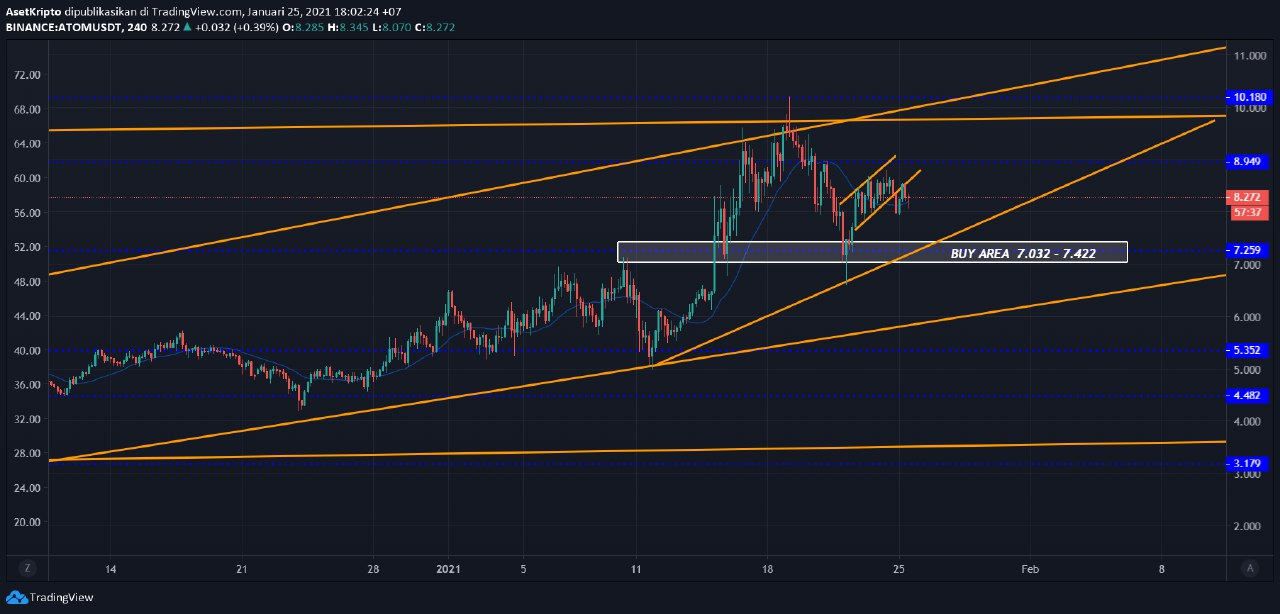 Last 1y: 86.2%
ATH: $ 10.09 | 19/1/21
Market capitalization rank 26

Rank: 24/26