What is Kusama (KSM)?
Kusama is an experimental blockchain platform designed to provide developers with a massive operable and scalable framework.
Kusama is built on a substrate - a blockchain building kit developed by Parity Technologies. Kusama has a similar codebase to Polkadot - one of the most successful interoperable blockchains.
By deploying in Kusama, fast-moving projects gain access to a highly scalable interoperable sharded network, with features not yet available in Polkadot. To that end, Kusama describes himself as a "canary network".
The platform is designed to provide a testing ground for developers looking to innovate and deploy their own blockchain and can be used as a prep network before launching at Polkadot - although many projects choose to stick with Kusama for their final product.
Kusama benefits from a low barrier to entry for parachain applications, low bond requirements for validators, and is most commonly used by early stage startups and for experiments.

Kusama's price for today is $ 97.39 USD with the volume of transactions in the last 24 hours of $ 92,333,431 USD. Kusama is down 5.72% in the last 24 hours. Its current rating is # 47, with a market cap of $ 824,891,141 USD. It has a circulating supply of 8,470,098 KSM coins.
Last Update: 26/01/2021
For the latest update: Coinmarketcap
What makes Kusama (KSM) unique?
Kusama is unlike your usual blockchain platform, as it is mostly built for developers looking to launch bold and ambitious projects, at a fast-growing pace of development.
It builds on a multichain, heterogeneous-sharded design that uses a nominated proof-of-stake (NPoS) consensus system - an alternative consensus mechanism for proof-of-work (POW) schemes used by some other blockchains.
This system enables it to perform fast on-chain upgrades without forks, and supports cross-chain message delivery (XCMP) to enable communication with other parachains on the Kusama network.
Like Polkadot, Kusama features on-chain governance capabilities. This on-chain governance is decentralized and permissionless, allowing anyone with a Kusama token (KSM) or a parachain token to vote on their respective governance proposals, which may include alleged upgrades, changes to protocols, and feature requests. This on-chain governance procedure is roughly four times faster than that offered by Polkadot, with a combination of the voting period and enactment of only 15 days - leading to a rapid pace of development of projects being built in Kusama.
This project caters to projects looking to initiate, roll out updates and upgrades without the need to apply a fork to do so - thus ensuring maximum community cohesion.
Trader Review
Kusama KSM
Dr. Gavin Wood, founder of Kusama, conceptualized the entire initiative from the need to strengthen Polkadot's network capabilities to support innovative dApps. Kusama is designed as a blockchain running parallel to Polkadot.
Dr. Wood envisions Kusama to be a testnet like a mainnet that functions as an early warning and problem detection tool. The model implements realistic conditions for every application placed in it, with the aim of discovering the weaknesses of the Polkadot database even before the dApps are run on the mainnet
Before new features or protocols are applied to the Polkadot chain, they can undergo realistic experiments through the Kusama network Kusama's
goal:
Kusama is a parallel blockchain that runs along the main chain of Polkadot. Its main purpose is to serve as a canary network, focused on assisting the community and its developers in testing future implementations of the Polkadot main chain.
Kusama is supported by parallelable chains (parachain), and is considered a much simpler form of blockchain secured by "relay chains." The relay chain also serves to secure communication between other parachains. This helps Kusama execute multiple parachains for developers without the potential for collisions and without too much security expense.
What are KSM tokens used for?
Governance: A place where participants can manage protocol updates and improvements.
Staking: Where tokens are staked to ensure the network remains secure. Because good validators are rewarded and bad actors lose the stakes.
Bonding: Where the new parasain is supported by token bonding.
Fee: For transferring messages via Parachain.
Kusama Features:
Fast Development - Running parachains allows developers to test all possible implementations of their dApps or other projects. Because they can easily make governance decisions and improve adoption, they can scale their projects more quickly before they are finally sent to the mainnet for everyone to use.
Accessible - Developers can easily create their own blockchain without much expense. Because it works on parachains, securing the chain yourself is also not expensive.
Advanced Technology - Parachain implemented by Kusama can run independently and parallel to each other. Kusama's sharded and multichain network allows developers to take advantage of the true state of the blockchain before they deploy their projects on Polkadot.
Open Governance - Kusama's governance is decentralized. It has its own community which is responsible for controlling the direction of the entire network. Through a voting system supported by the original token, anyone can take part in planning the road map for thenetwork
KSM Token
. Kusama's original token is KSM. KSM can be used as a medium of exchange within the network, to perform network validation or nominate validators, support parachains and parathreads, and vote on decisions of the Kusama government.
KSM holders are given the ability to stake the network through their consensus model. Kusama's Proof-of-Stake (NPoS) Nomination Model allows shareholders to become network validators through a regular selection process.
The algorithm looks at the following metrics to balance bet weight between each validator nomination: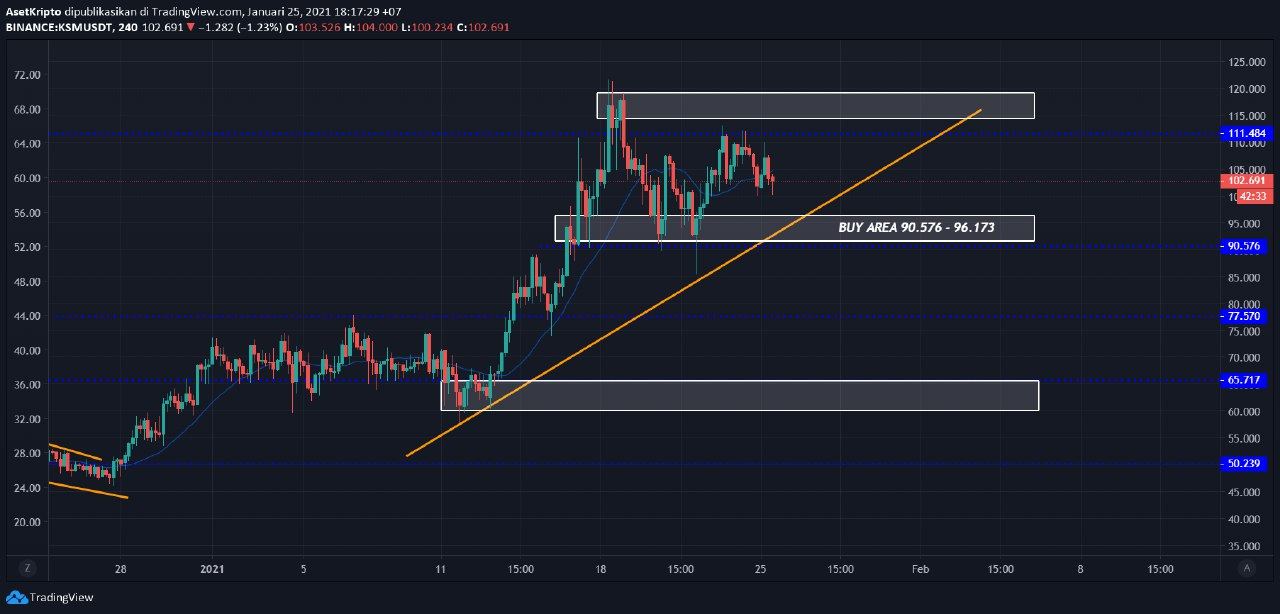 Last 1y: 10092.9%
ATH: $ 120.49 | 18/1/21
Market capitalization rank 47

Rank: 47/48