Hi Tokonauts
Tokocrypto shares happiness with the TKO giveaway for those of you who can complete the missions given by Tokocrypto. The total prize pool of 72,000 TKO * will be distributed to customers who complete the mission according to the terms and conditions specified. Currently there are 4 (four) missions that you can do every day:
1. Share Referrals Get TKO
Share your referrals until the referral user registers a Tokocrypto account and gets a 0.001 TKO prize every day
2. Buy TokoToken (TKO) Get TKO
Make TKO purchases in any amount and get 0.001 TKO cashback every day (not valid for TKO selling transactions)
3. Trade BIDR with Selected Coins to Get TKO
Trade buying and selling BIDR pairs with other coins, for example DOGE (BIDR / DOGE) or BNB (BIDR / BNB), get a 0.001 TKO prize every day
4. Fiat deposit Get TKO
Make a fiat IDR deposit in any amount, get a prize of 0.001 TKO every day
5. Invite Friends to Join Tokocrypto Get TKO
Invite your relatives to register and KYC at Tokocrypto using your referrals to get xxx TKO prizes every day. Only valid for your relatives who register and KYC on the same day.
Example: invite relatives to register and KYC using your referral, make sure KYC is verified on the same day and during business hours.
Make sure the KYC data you input is correct and clear to avoid failure in KYC verification. You can see the steps for KYC verification HERE
How to complete the Tokocrypto mission:
1. Go to the Daily Task Tokocrypto make sure you have logged in to your Tokocrypto account, then select and click the mission you are going to do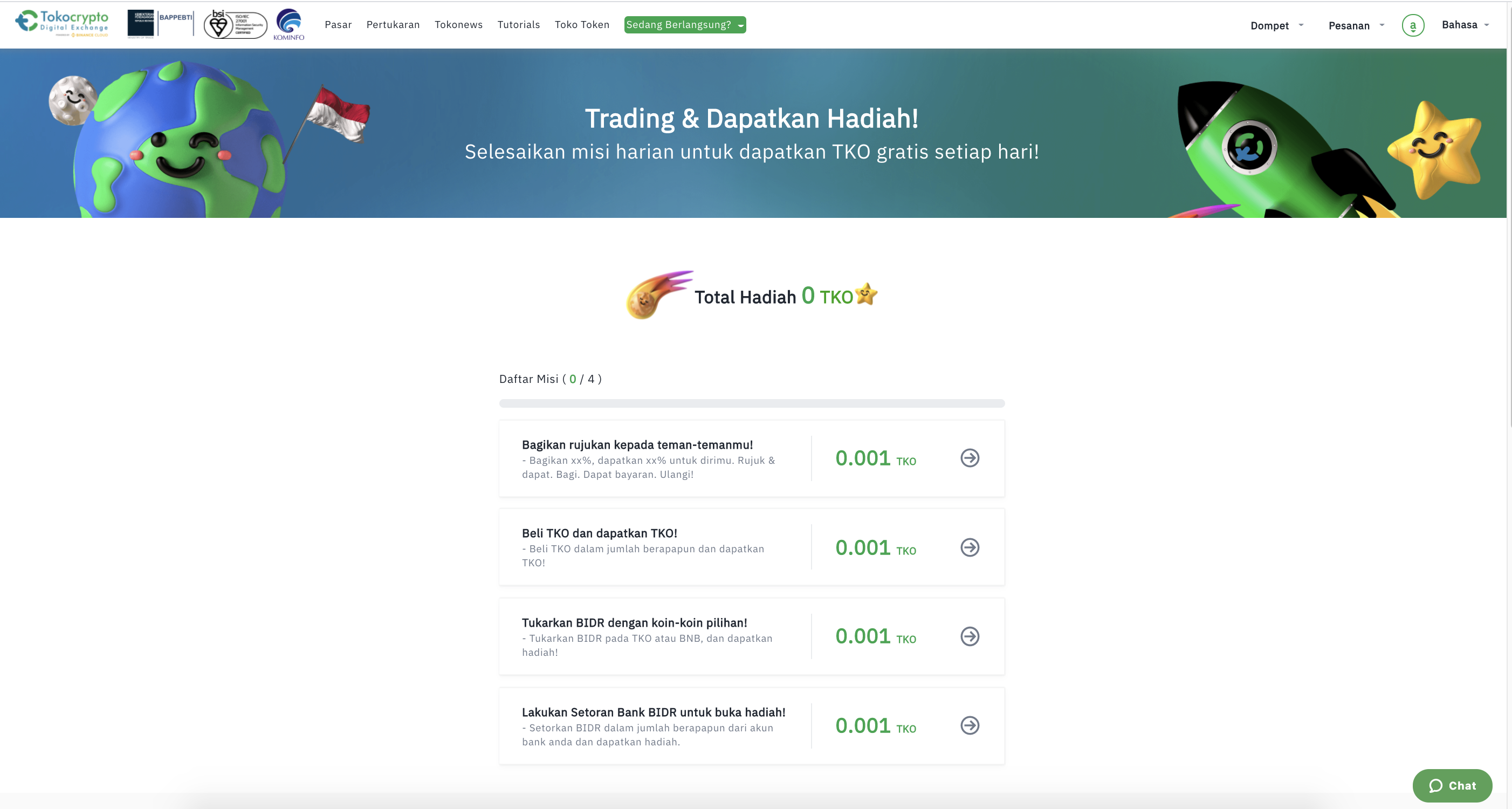 2. Please complete the mission according to the mission you choose
3. After you complete the mission, please update / refresh your Daily Task Tokocrypto page until the claim button appears on the mission that you have completed as shown below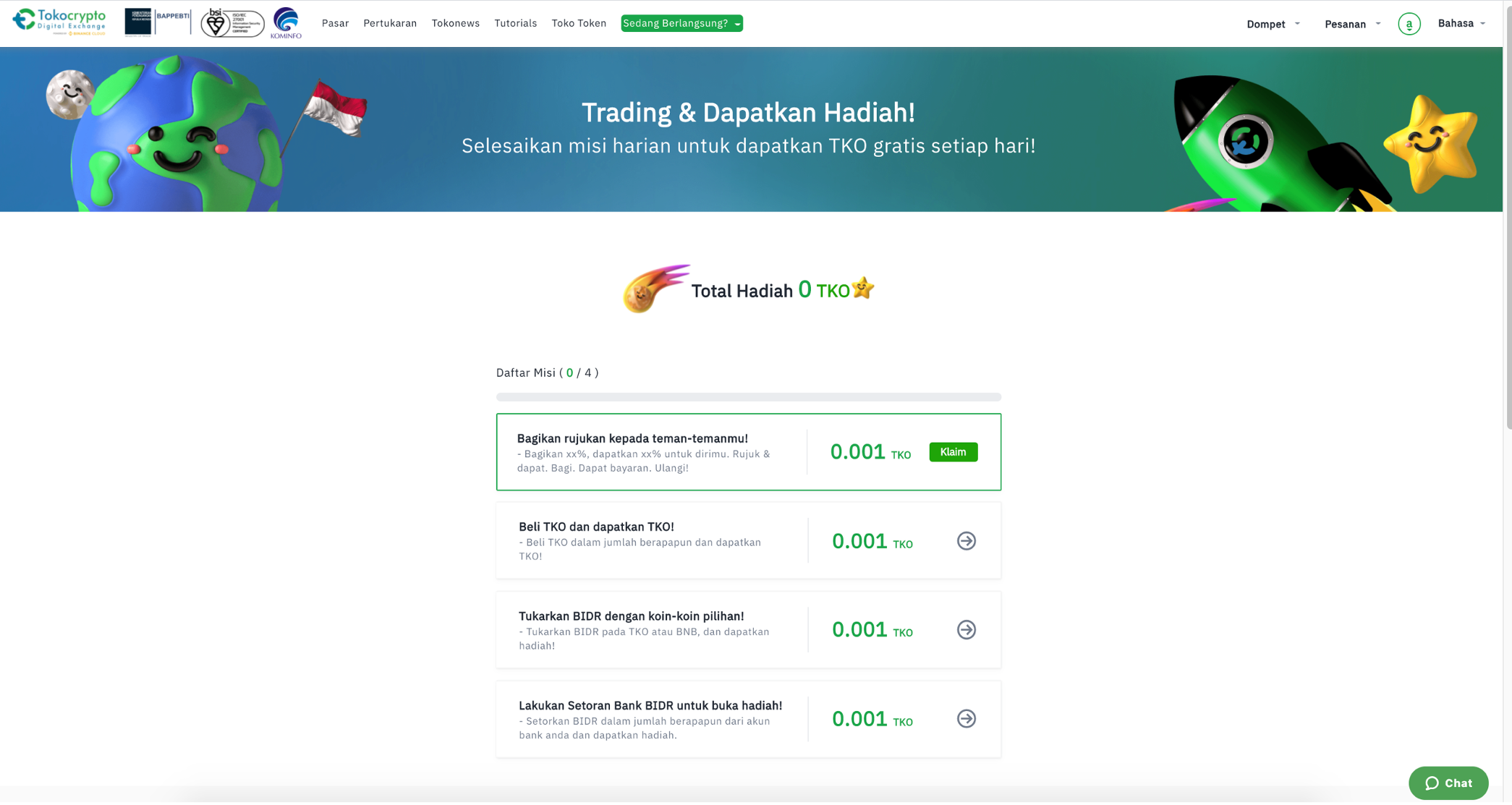 4. Click the claim button on the mission that you have completed until a pop up message appears as shown below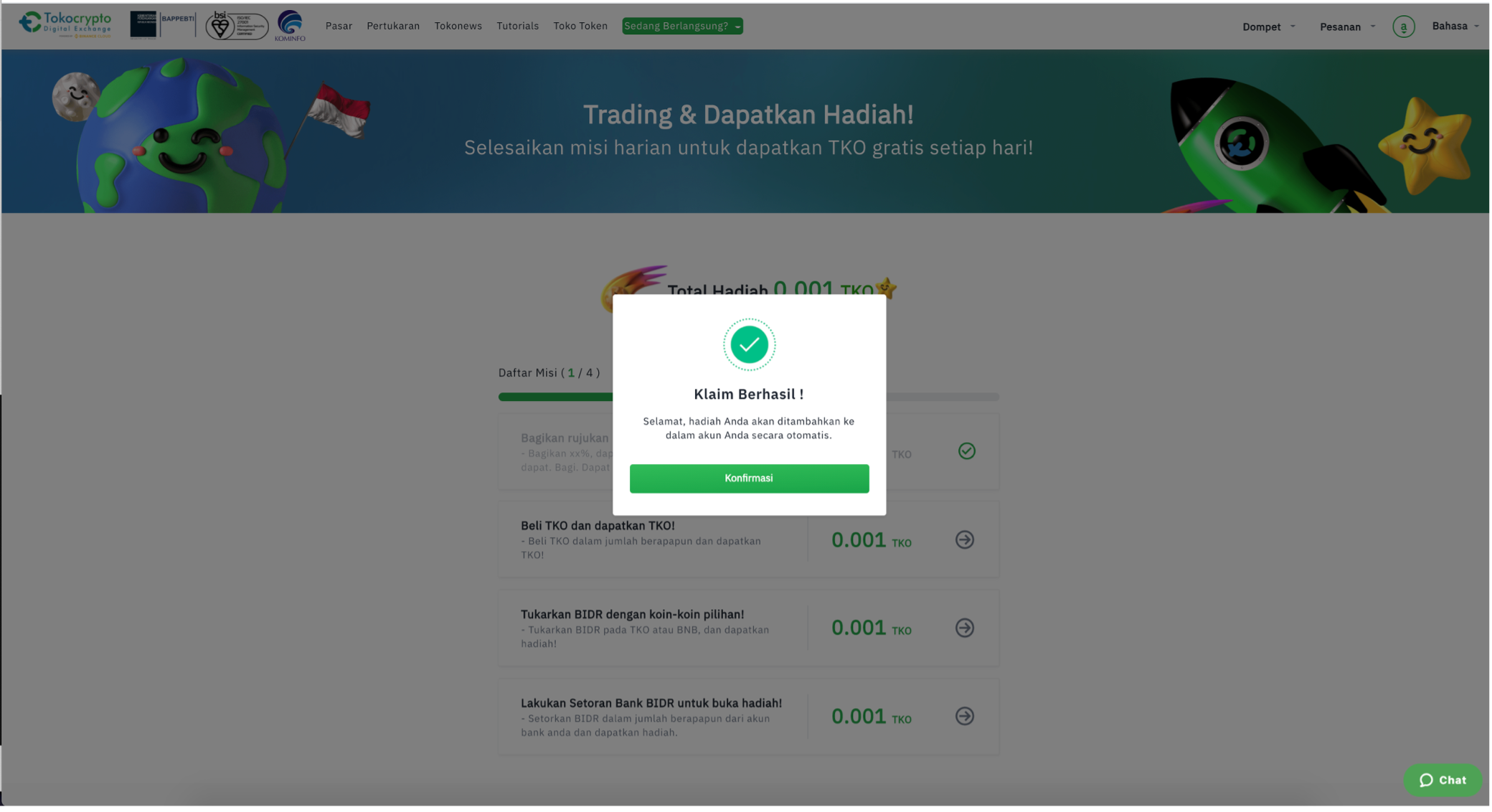 5. You can check TKO prizes directly on the Distribution History page (Wallet> Distribution History)
What are you waiting for? Complete daily missions and bring home the TKO prize NOW
Look forward to other exciting missions in the next week especially for Tokocrypto Customers!
Salam to the Moon!
General terms and conditions:
Participants are registered as Tokocrypto customers and complete KYC level 1;

Each customer can only complete 5 (five) missions above each once per day;

Missions will be auto-reset every 00.00 WIB

Prizes will be obtained after completing the mission in accordance with the terms and conditions by claiming the prize;

Prizes will be automatically entered on the Distribution History page after you claim the prize;

Invite friends only counts if KYC is verified on the same day and during business hours to avoid delays in KYC verification;

Prizes that are not claimed, will be automatically forfeited the next day.

There are 800 TKOs that can be contested every day.

Complaints regarding prizes can only be submitted a maximum of 30 days after the prizes are distributed.

The judges' decision will be final

The jury has the right to cancel the winner if it is proven that it does not meet the predetermined conditions;

Terms and conditions can change at any time without notice;

For more information, join the Telegram group: Tokocrypto Official Group and follow the Tokocrypto Instagram.
Stay tuned for further information on all official Tokocrypto channels:
Telegram: Tokocrypto Official Group
TKO Telegram: Official TKO Token Global Discussion
Twitter: Twitter Tokocrypto
Facebook: Official Facebook Tokocrypto
Instagram: Instagram Tokocrypto
YouTube: Youtube Tokocrypto
LinkedIn: LinkedIn Tokocrypto