Hi Tokonauts,
Tokocrypto presents a new feature for loyal Tokocrypto customers, by launching the Lock TKO Token feature! Complete your daily TKO Token key missions to get daily TKO rewards every day. There are several time intervals that you can choose from including:
Lock TKO 7 days: for every 100 TKO, you can claim daily prize of 0.04 TKO (Prorated)

Lock TKO 30 days: for every 100 TKO, you can claim daily prize of 0.05 TKO (Prorated)

Lock TKO 60 days: for every 100 TKO, you can claim a daily prize of 0.06 TKO (Prorated)
Easy Steps to Lock TKO:
After logging in to your account, please go to the tokocrypto.com homepage, select the Ongoing menu and click the TKO Lock Menu;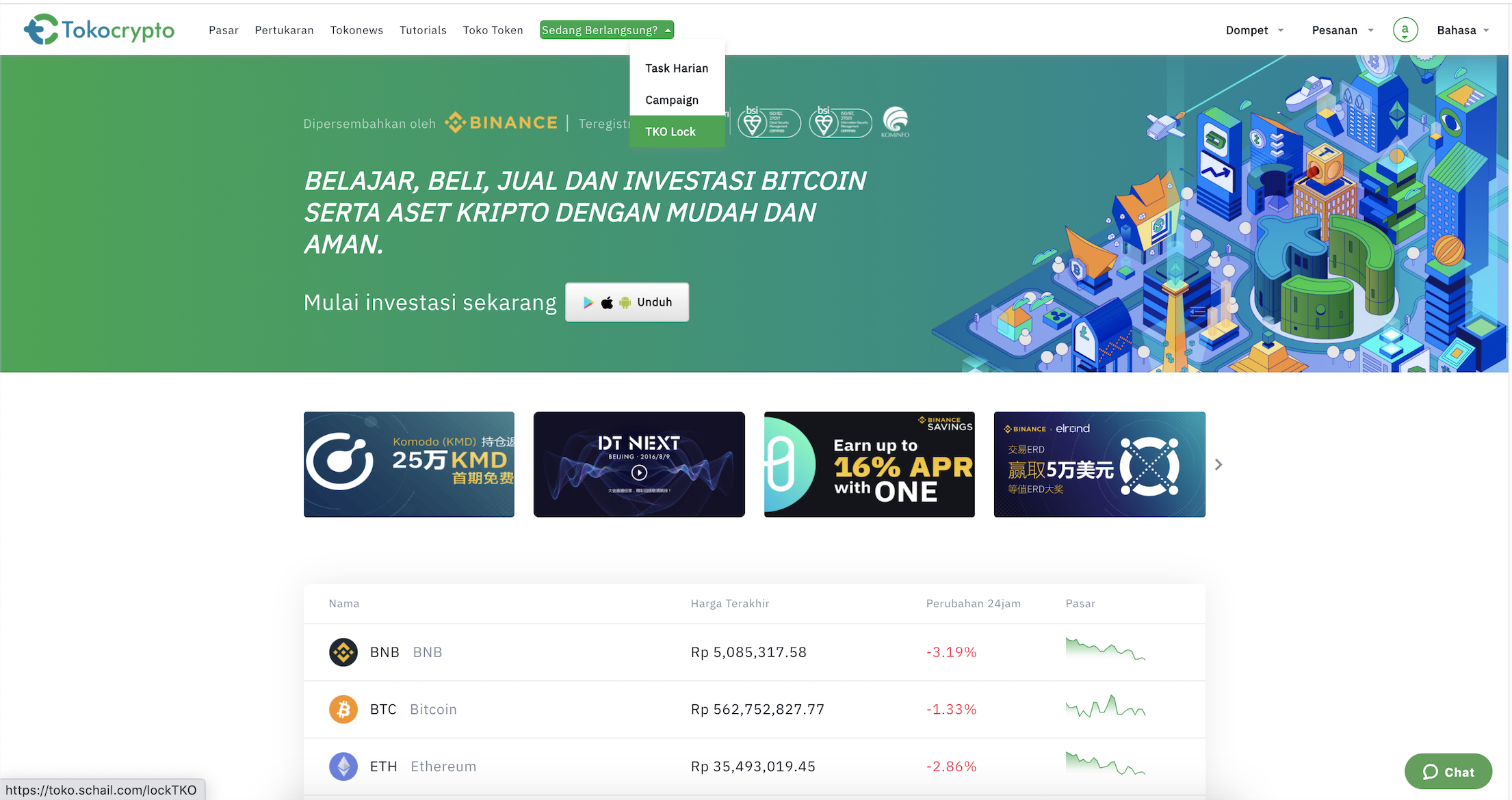 After click the TKO Lock menu, as you can see in this image below there are several TKO Lock intervals that you can choose, please click Lock at the interval you choose;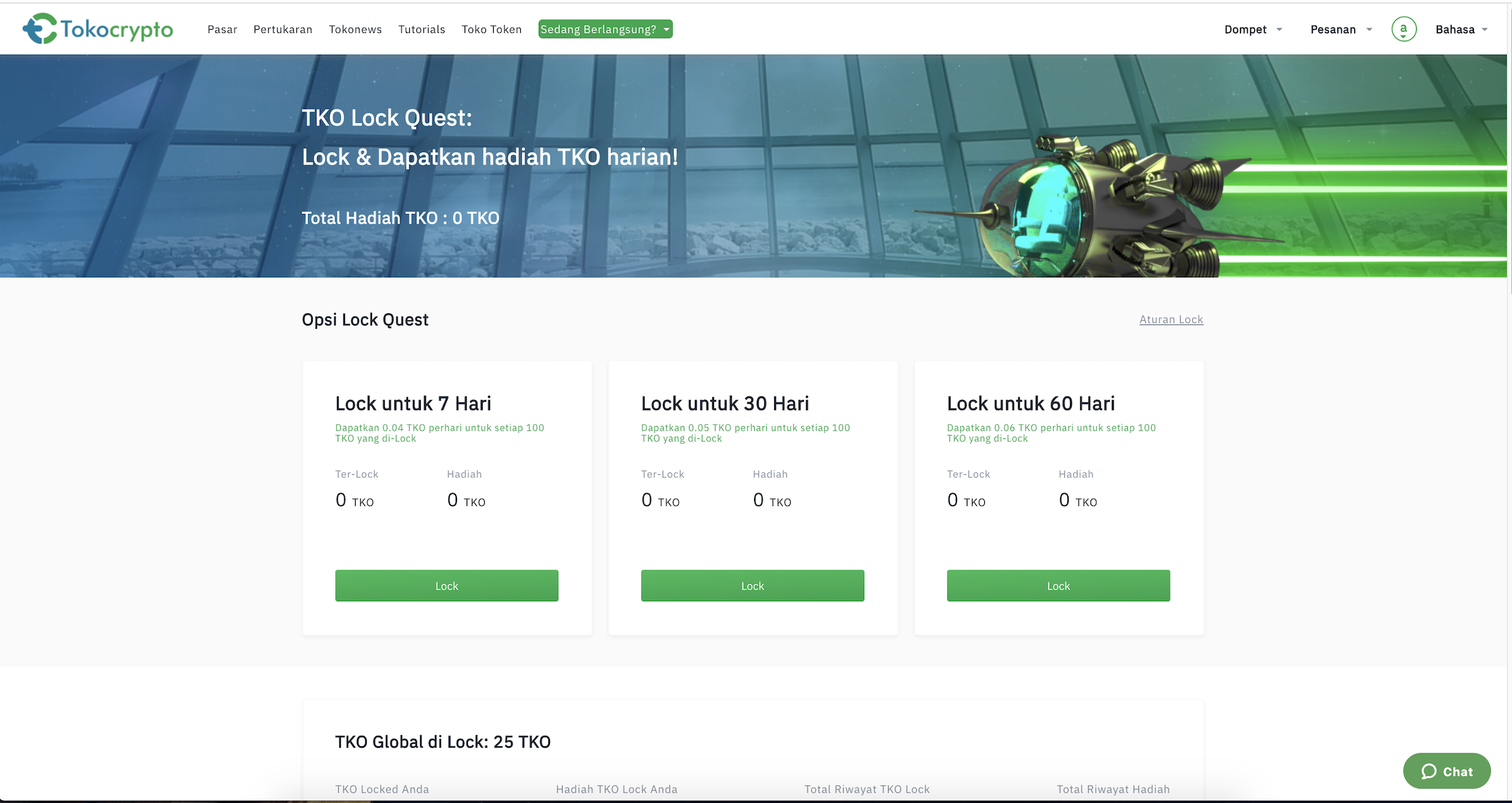 After you select the interval, please enter the amount of TKOs that you will lock in the first column (make sure you have a number of TKOs). The minimum amount TKO that is locked is 1 TKO, the number that comes out in the prize column will adjust to the amount of TKO you input, then click the Lock Now button;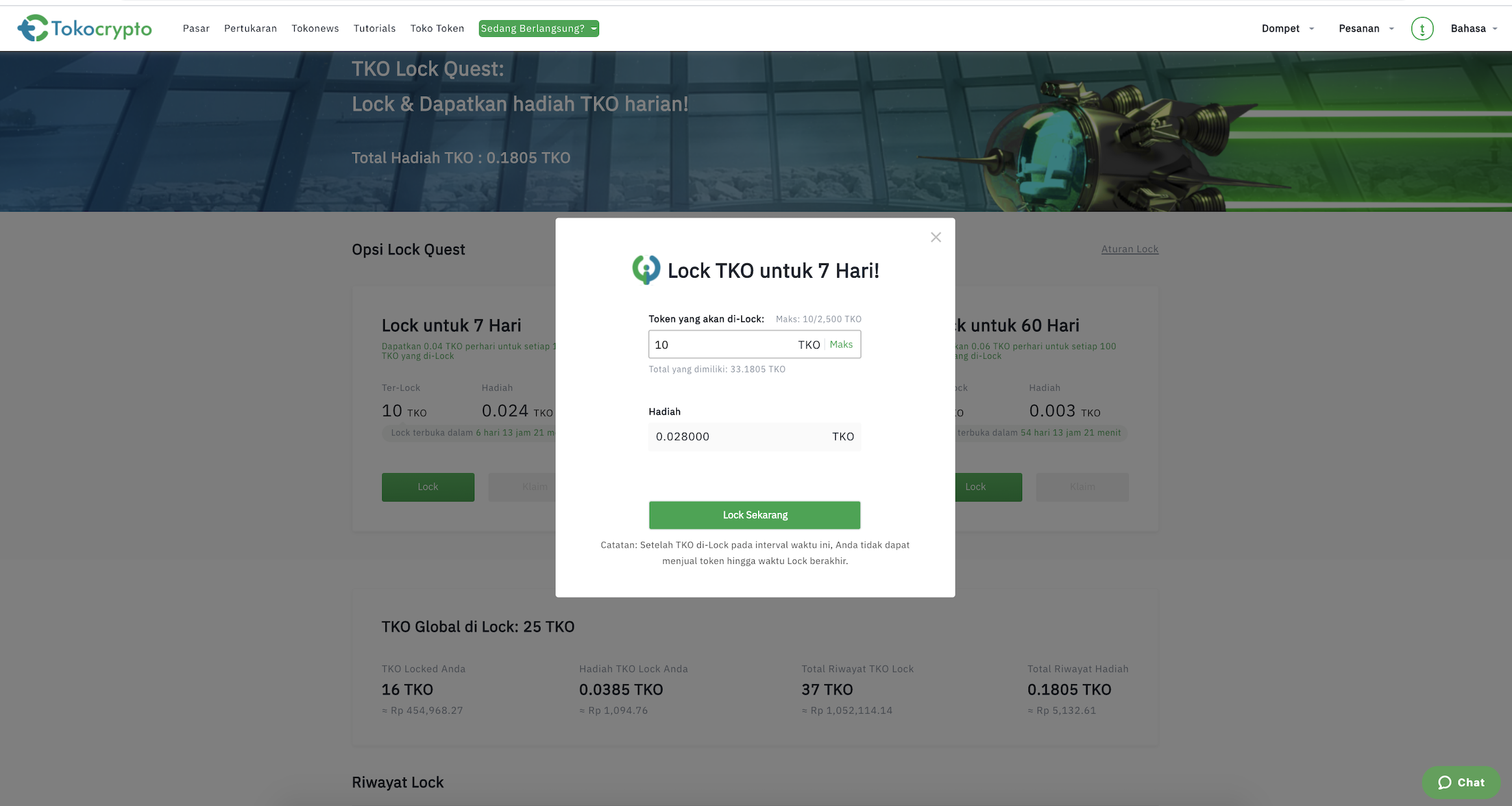 After click Lock now, a warning message will appear and you cannot sell TKO that has been locked, please click the terms approval column and continue clicking the Confirm button until a successful pop up message appears at the top right corner;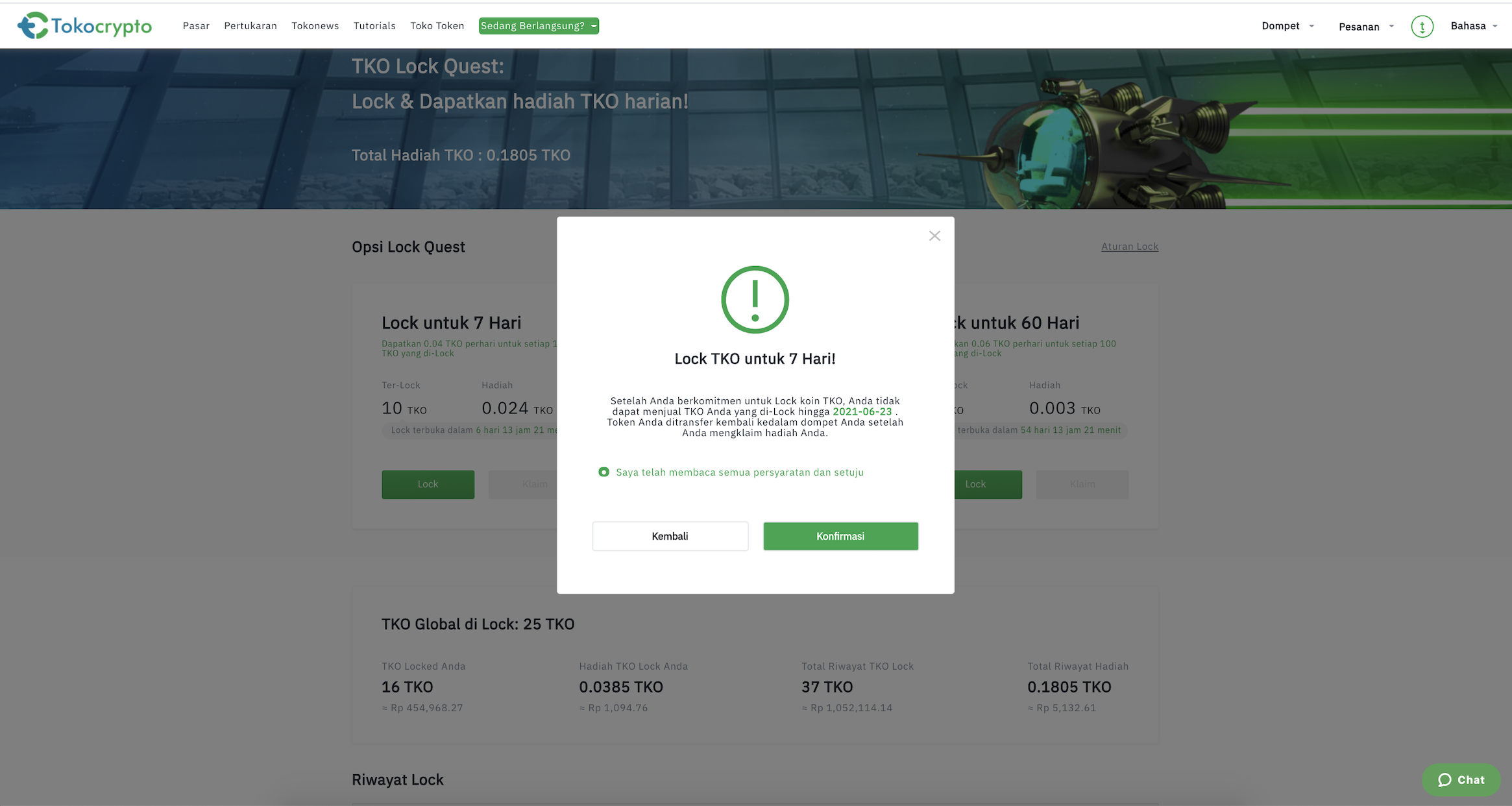 You can see your Lock history in the Lock History section and your TKO Rewards in the My Rewards section.
How to claim TKO prize:
Please enter the TKO Lock Quest page, then click the claim button at the interval you choose;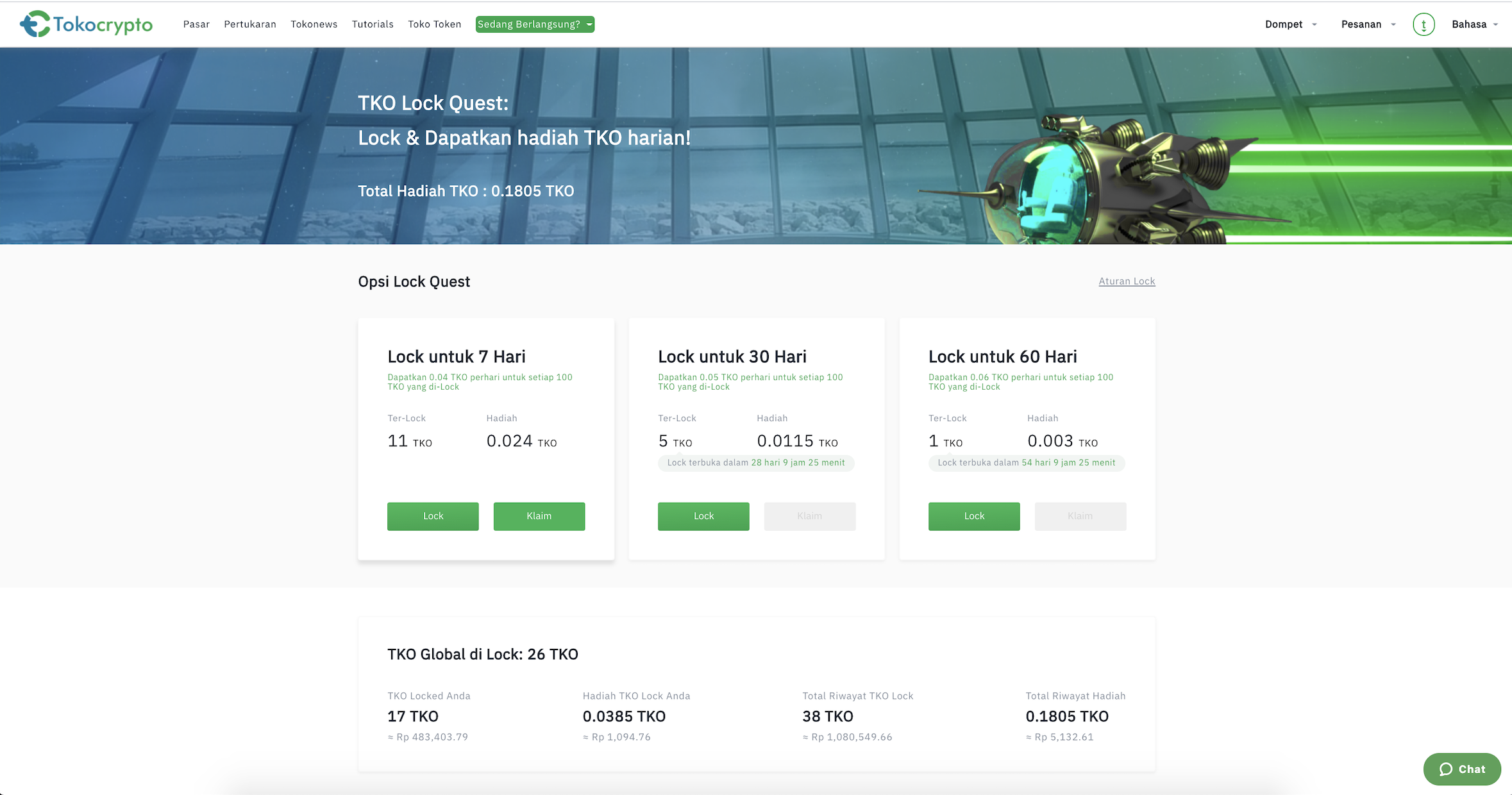 After you click the claim button, a pop up message will appear as below that the claim has been successful and click the history button to view your claim history.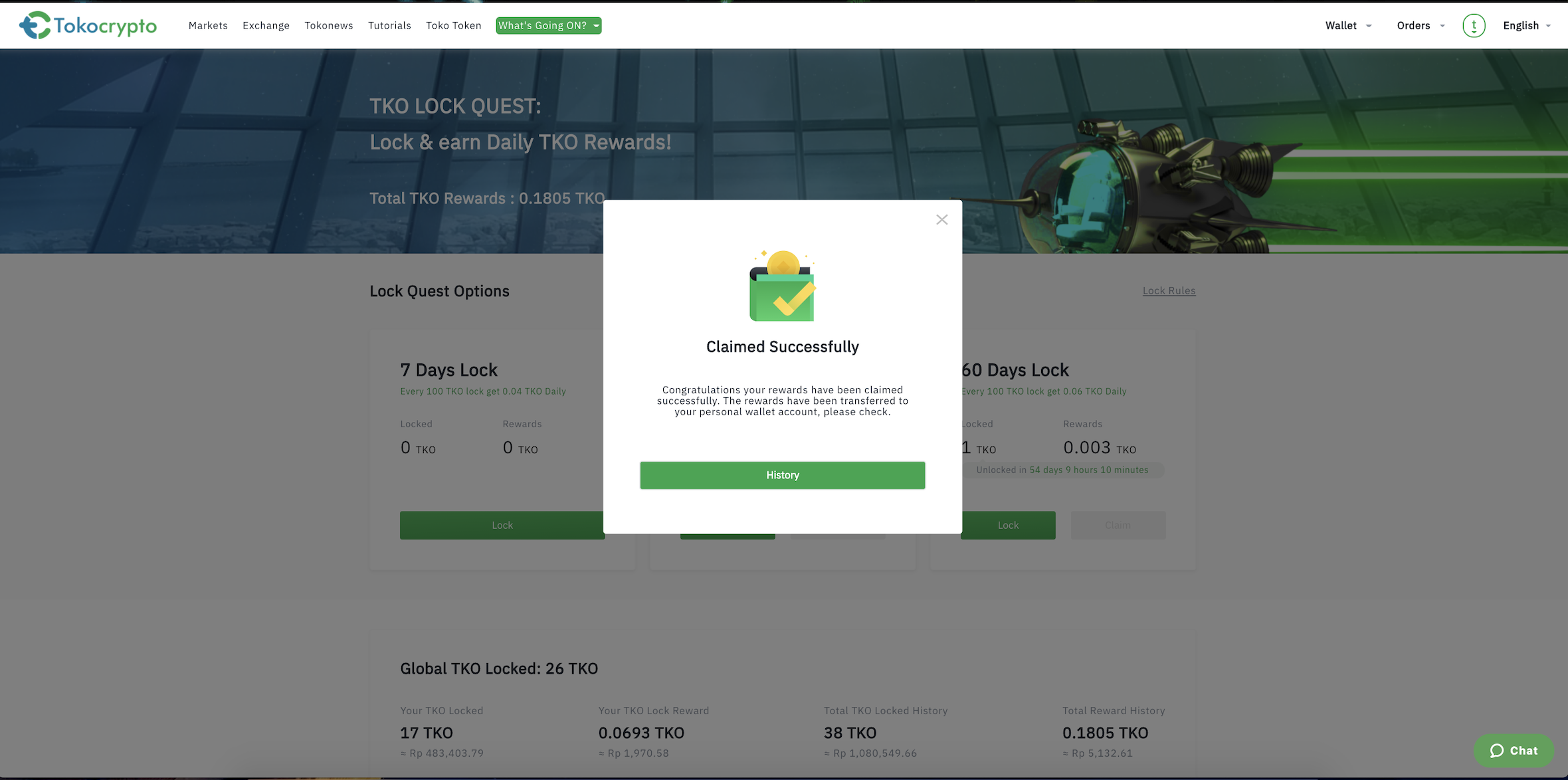 After the lock period is over and prize has been claimed, the nominal of TKO lock and TKO prize will send directly to your wallet;

Prize claims can only be made when the lock period is over.
Terms and Conditions:
1. Only valid for customers who have completed Level 1 KYC verification;
2. The maximum TKO Token that can be locked is 2,500 TKO per interval
Example: You want to Lock TKO for 5,500 TKO, then you can Lock Token with time interval options: 7 days for 2,500 TKO, 30 days for 2,500 TKO, and 60 days for 500 TKO;
3. The minimum number of TKO to lock is 1 TKO, valid for all intervals;
4. The date to unlock the TKO will be extended based on the most recent lockout time if you add any number of TKOs for the selected lockout time interval type
Example: You do Lock TKO for 7 days interval on May 10, 2021 as many as 200 TKO and you have the right to open the Lock TKO on May 17, 2021 according to the time interval selected, then you add the number of Lock TKO by 1000 TKO on the 16 May 2021. Then you cannot unlock the 200 TKOs on May 17, 2021 and can only Unlock all of your TKOs on May 23, 2021;
5. The number of prizes will be adjusted to the number of TKOs locked;
6. Terms and conditions may change at any time without prior notice;
7. For more info, join the Telegram group: Tokocrypto Official Group and follow the official Tokocrypto social media account.
What are you waiting for? Complete TKO Lock Daily Missions, and Get Daily Rewards NOW
Salam to the Moon
Stay tuned for further information on all official Tokocrypto channels:
Telegram: Official Group Tokocrypto
Twitter: Twitter Tokocrypto
Facebook: Official Facebook Tokocrypto
Instagram: Instagram Tokocrypto
YouTube: Youtube Tokocrypto
LinkedIn: LinkedIn Tokocrypto