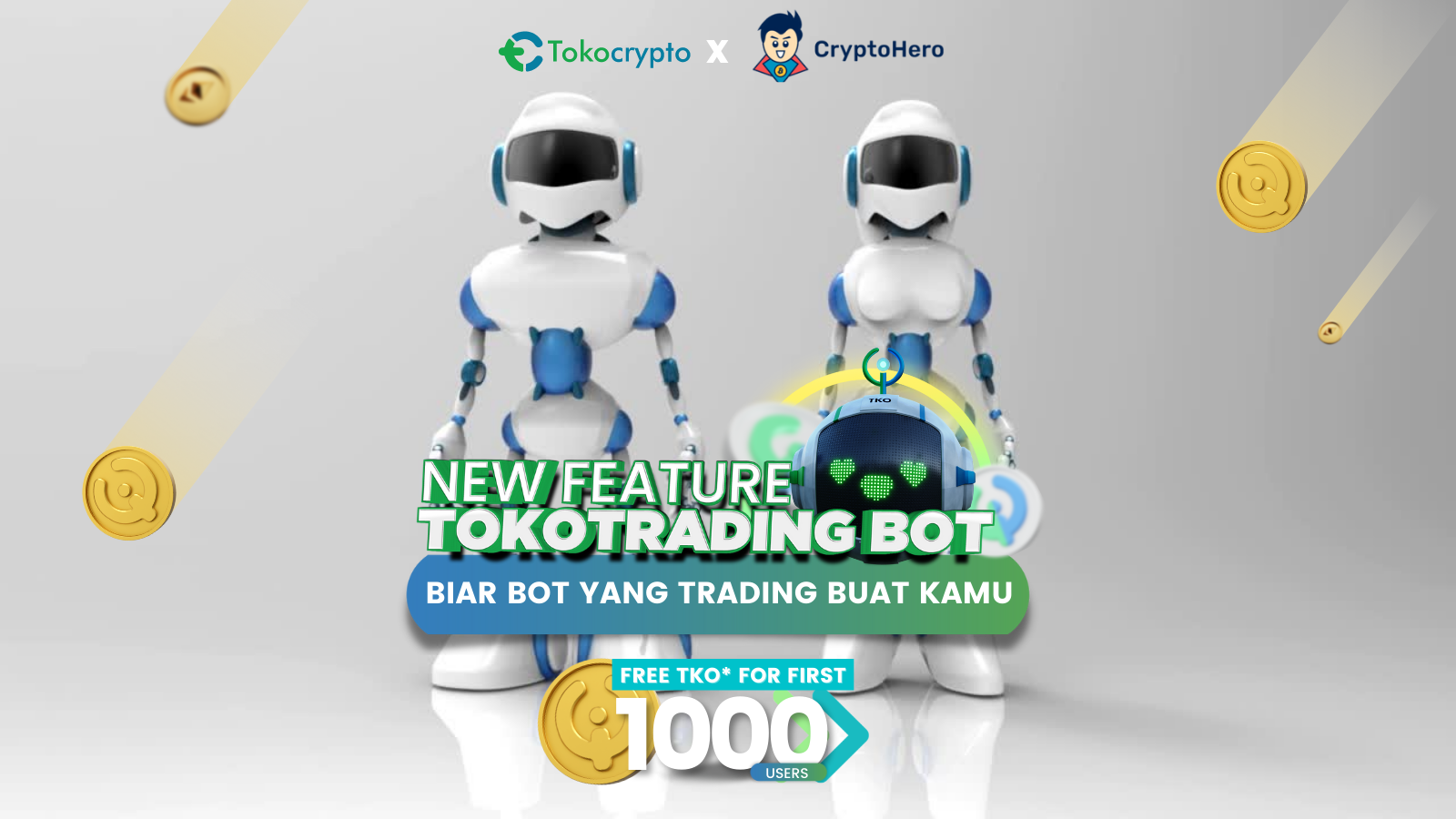 Hi Tokonauts,
No need to trade yourself, no more hustle! We're launching CryptoHero Bot that can make your trading easier, we have 5 TKO for you who accomplished the CryptoHero Bot mission. To qualify;
Register CryptoHero Bot and earn TKO
Register a CryptoHero Bot account with THIS special link;

Make sure the BIDR balance in your Tokocrypto account is at least 1,000,000 BIDR.
Get 1 TKO after completing the 2 missions above for the first 1,000 people who complete the mission.
Trading get TKO
Get 1 extra TKO if you trade a minimum of $5,000 using CryptoHero Bot (any coins and pairs available in CryptoHero Bot) for the first 750 users.
Own CryptoHero Bot Premium get TKO
Also, get 3 extra TKOs by purchasing a premium package at CryptoHero Bot. Valid for the first 250 people. Moreover, a premium account allows you to run 15 active bots whereas a basic account can only run 1 active bot.
What are you waiting for? Trading on Tokocrypto with CryptoHero Bot, get 5 TKO
Shhh, if you trade with BIDR pairing, there is a 100% cashback waiting!
More info HERE
Find out about the steps to create a CryptoHero Bot account HERE
Terms and Conditions:
Valid for all Tokocrypto Customers who have completed KYC level 1;

Valid for customers who register CryptoHero Bot on the specified link (link above);

The program start from Friday, September 24, 2021 to Saturday, October 23, 2021 at 23:59 WIB;

The prize quota of 1 TKO when register a CryptoHero Bot account is 1,000 TKO (for the first 1,000 users);

TKO prizes will be distributed to your Tokocrypto account up to 30 days after the program ends;

Prize-related questions can only be submitted a maximum of 30 days after the prize is distributed;

The judges' decision will be final;

Tokocrypto has the authority to change the terms and conditions at any time without notice.
Salam to the Moon
Stay tuned for further information on all official Tokocrypto channels:
Telegram: Official Group Tokocrypto
Twitter: Twitter Tokocrypto
Facebook: Official Facebook Tokocrypto
Instagram: Instagram Tokocrypto
YouTube: Youtube Tokocrypto
LinkedIn: LinkedIn Tokocrypto