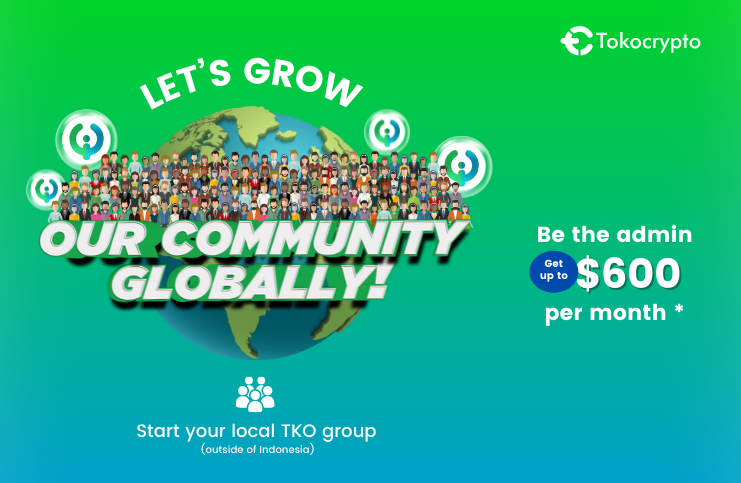 Hi Tokonauts!
We are looking to create TKO community groups in several countries/languages, and grow our community even bigger. For a start, we will create TKO Telegram Groups in 10 countries/languages: Turkey, Russia, India, Vietnam, Mandarin (for China, Taiwan, Hong Kong), Nigeria, Pakistan, Ukraine, Germany and Saudi Arabia. Thus, we will hire natives from each country to be the admins.
So far, we have successfully built our communities in 4 languages/countries: Vietnam, Nigeria, India and Bangladesh. Turkey, Russia, Mandarin (for China, Taiwan, Hong Kong), Ukraine, Germany and Saudi Arabia are STILL OPEN.
Are you interested in being the admin of your local community? Come Come join the campaign to be the group admin and get up to $600/month.
Please take note of the following requirements:
Must be a native of the relevant country and have good English communication skills

Fill in this form

up with your information and related experience you have

After completing step 2, contact admin Comet in

https://t.me/tkogroupOFFICIAL

to get your personalized group link. Each participant will receive one group link.

Participants must grow their group to 1000 members to be selected as the admins. Maximum time: 14 days after this campaign starts.

The fastest to get 1000 members will win (we will choose only 1 for each country).

Once you have 1000 members, contact Comet again to sign the contract. We will help promote your group from this point to get more members from your country.

To keep the group active, you will be given a monthly salary as follows:




1000 - 2000 members get $50/month.

2001 - 3000 members get $100/month.

3001 - 4000 members get $150/month.

4001 - 5000 members get $200/month.

5001 - 10000 members get $300/month

10000+ members get $600/month

To be eligible, admins should keep the group active, engaging and alive every day.

Please note that Bots are not allowed to be invited. If detected, the monthly payment will be cancelled. Organic members and discussion are encouraged.

The jury's decision is final.
Terms and Conditions
This program only valid for citizens in the designated countries/languages

Monthly reviews will be conducted regularly to ensure the growth and engagement of the groups.

Please fill in the prepared form to join the program

The group engagement will be monitored by Global admins, and should be kept alive every day.

The payment will start after an MOU between TKO team and admins is signed.

Payment will take up to 14 working days.

The terms and conditions (TnCs) are subject to change without prior notice from the TKO team

Tokocrypto has the authority to change the TnCs at any time without prior notice.
Salam to the Moon
Stay tuned for further information on all official TKO channels:
Telegram: TKO Global Discussion Group
Twitter: Twitter Toko Token
Facebook: Official Facebook Tokocrypto
Instagram: Instagram TKO Token
Discord : Discord Tokocrypto