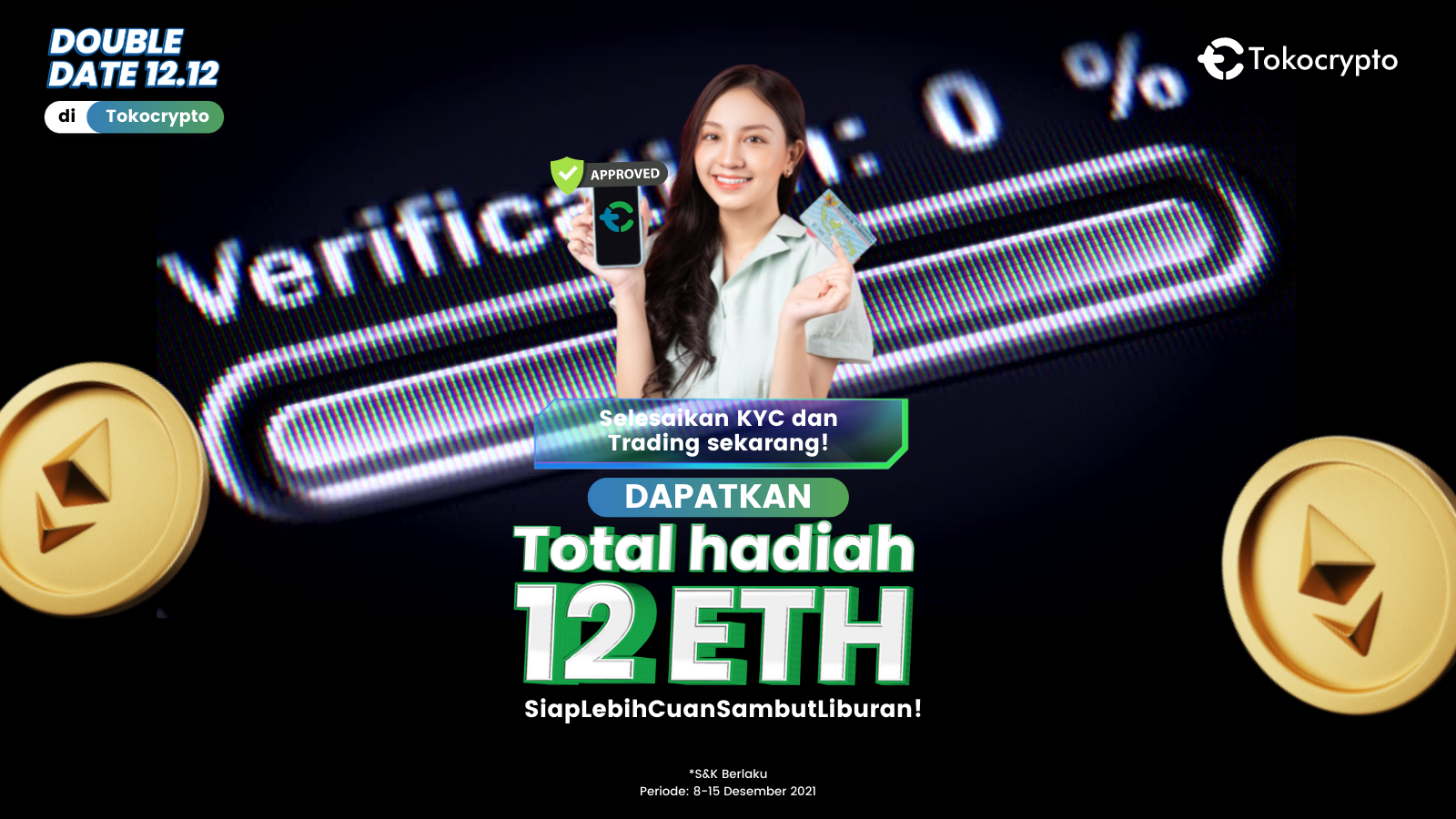 Hi Tokonauts,
Double the dates double the money! Earn a total prize of IDR 10 Billion through the 12.13 Double Date program, only for you loyal Tokocrypto customers, follow this mission:
Complete KYC Win 12 ETH!
Complete KYC verification level 1 during the period Wednesday, December 8, 2021 at 19.00 WIB to Wednesday, December 15 2021 at 23.59 WIB;

Buy TKO of at least $100 with any pairing available on Tokocrypto;

Only TKO purchases are counted, sales are not counted;

For every $100 purchase, you are entitled to 1 lucky draw coupon and applicable multiple times;

Each user should have no more than 12 tickets;

100 lucky winners will get a total prize of 12 ETH (0.12 ETH each)
*Prize in the form of ETH
Share your referrals, take home TKO prizes
Are you an avid sharer of your referral code? We have a special gift for you! On top of that, we have prepared something special even for your friends who pass along your referral code as well, complete this mission below:
Referral owner shall complete KYC level 1;

Referral owner must submit a maximum of 1 referral code that will be used, fill

THIS

form to submit your referral code;

Referral owner is entitled to 1 TKO from every customer who completes registration and KYC level 1 using a registered referral code during the period December, 8 2021 at 19.00 WIB - December, 16 2021 at 23.59 WIB, the total prize is 10,000 TKO;
2 TKO reward for referral users who trade any pair available on Tokocrypto at least $25 except stablecoins (BUSD/USDT, BUSD/DAI, BUSD/BIDR, USDT/BIDR, and USDT/DAI);
Additional 100,000 SAND for 10,000 new customers who complete KYC level 1, check the full details

HERE

.
Not only that, you also have the opportunity to get a Grand Prize of 2,121 TKO for the Top 10 referral owners with the highest total underline with a prize scheme:
Top 1: 751 TKO

Top 2: 450 TKO

Top 3: 250 TKO

Top 4-10: 95.7 TKO per user
The more people who use your referrals, the higher your chances of winning the grand prize!
*Prize in the form of TKO
Already Registered but not KYC yet? Get TKO prize
For loyal Tokocrypto customers who have registered during the period January 1, 2021 to June 30, 2021 at 23.59 WIB but have not completed KYC level 1, get a TKO prize with the following scheme:
Complete KYC level 1 during the period Wednesday, December, 8 2021 at 19.00 WIB until Wednesday, December, 15 2021 at 23.59 WIB get 2 TKO;

Valid for the first 2,500 eligible customers.
Tokocrypto MobileApps Review, BTC Prize
Want to get additional BTC prizes? There is $1,500 worth of BTC for the first 500 best reviewers who have downloaded and provided the best reviews on the Play Store and App Store! Follow the steps below:
Download the

Tokocrypto Mobile Android

or

Tokocrypto Mobile iOS

versions;

Give your best rating and post a review on the Play Store/App Store (make sure you do a review according to the specified time period);

Take a screenshot of your best review results and fill out

THIS

the following form;

The program runs from Wednesday, December 8, 2021 at 19.00 WIB to Wednesday, December 15 2021 at 23:59 WIB.
What are you waiting for? Let's get double money by completing the mission above NOW
General Terms and Conditions:
Valid for Tokocrypto Customers who complete KYC level 1 according to the specified period;

Prizes will be distributed a maximum of 14 days after the program ends;

Prize-related questions can only be submitted a maximum of 30 days after the prize is distributed (30 working days after the program ends);

Tokocrypto has the authority to change the Terms and Conditions without prior notice;

Tokocrypto has the right to cancel the winner if it is proven that it does not meet the specified conditions;

This decision is irrevocable.
Salam to the Moon
Stay tuned for further information on all official Tokocrypto channels:
Telegram: Official Group Tokocrypto
Twitter: Twitter Tokocrypto
Facebook: Official Facebook Tokocrypto
Instagram: Instagram Tokocrypto
YouTube: Youtube Tokocrypto
LinkedIn: LinkedIn Tokocrypto