10,000 unique–not so–rich crazy AZNs to represent our rich Asian culture, and inspire the community to get rich together
Our goal is to create a universe fit for the AZN citizens. We're excited to build something that will be an open community space for AZN Holders to connect, contribute, and converge. For our first collaboration, we are proud to announce an official partnership with Tokocrypto Indonesia's biggest crypto exchange.
Lucky AZN holders can get the chance to earn VIP trading discounts and all holders will automatically get priority access to T-hub, a crypto hub and co-working space for crypto and NFT enthusiasts. We are also working with our partner to explore further NFT trading deals & priority whitelisting for future blockchain projects. More to be released soon.
AZN Vision:
Each AZN is a reflection of you and me. With the global spotlight finally shifting towards the South-East Asian community, it is time to seize our own NFT universe. We see AZNs having a huge potential as a cultural phenomenon. Look forward to future merchandise drops immortalizing the people from all walks of life.
Community Perks (united we stand):
Banding together the Crypto-Conscious, we are constantly looking for collaborations with potential partners to benefit AZN holders with insights, exclusive access and trading benefits. Let's face it, it's tough as if we're going to face this world alone.
Crazy Rich AZN Club (the people around you make you):
We're not just investing in NFTs. We're investing in people and the community. Each AZN token grants you exclusive access to CRAClub to where we share business insights, NFT drops and the same hustle life. The idea is that we want to build a woke community that helps one another, like a family. Now, that's something money can't buy!
This is a monumental step to AZN financial freedom. We can't wait to announce more partnerships to benefit our AZNs.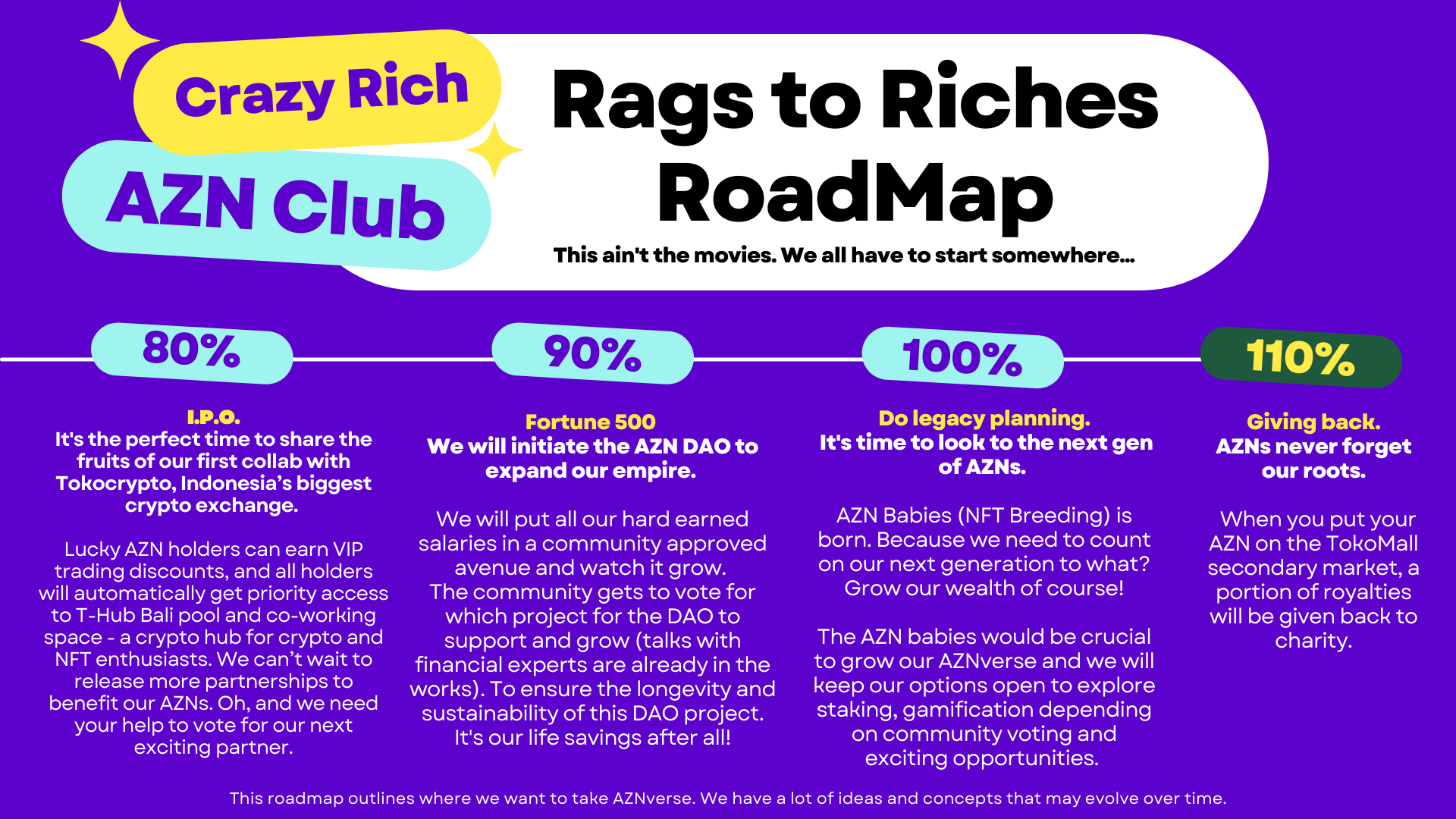 Stay tuned on AZN's channels for more information and further updates.
Discord: https://discord.gg/aznverse
Twitter: https://twitter.com/AZNverse
Website: https://www.aznverse.com/