Successful The DeFi project is characterized by allowing users to engage in yield farming by providing liquidity. Usually, yield farming is built on the Ethereum ecosystem, which has become the main network for decentralized financial tools and applications. Though, the Binance Smart Chain (BSC) also supports this type of functionality, which is why Alpha Finance Lab decided to build a DeFi ecosystem on both BSC and Ethereum.
What is Alpha Homora?
Alpha Homora is the second work product developed by Alpha Finance Lab. It is designed to allow users to take advantage of their liquidity mining exposure. More specifically, those involved in DeFi yield farming can "solidify" their position. This may be the first time leverage has emerged for DeFi yield farming, which makes Alpha Homora a unique project in Decentralized Finance.
Yield farming is also not the only option to explore. Alpha Homora supports ETH loans and also allows participants to become specialized users called liquidators and bounty hunters. The bottom line is that all these options allow users to earn money depending on their personal preferences and risk appetite. All of these options allow for a high APY reward, making Alpha Homora attractive to DeFi fans.
What is the ALPHA Token?
ALPHA is a utility and governance token. Not only for the Alpha Homora protocol but for other products in the Alpha Finance Lab ecosystem.
Today's ALPHA Token price is $ 1.07 USD with the trading volume in the last 24 hours of $ 125,142,724 USD. The ALPHA token is up 0.24% in the last 24 hours. Its current rating is # 102, with a market cap of $ 185,530,102 USD. There was a circulating supply of 174,136,442 of the 1,000,000,000 ALPHA Token supplies provided.
Last Update: 26/01/2021
For the newest update: Coinmarketcap

Uniqueness
The first time that leverage comes into the picture for farmers yield DEFI(https://academy.binance.com/en/articles/what-is-yield-farming-in-decentralized-finance-defi)

Build its DeFi ecosystem both on BSC and Ethereum.
Trader Review
Alpha Finance Lab is a cross-chain DeFi platform that seeks to bring alpha to users across a variety of different blockchains, including Binance Smart Chain (BSC) and Ethereum. This platform aims to produce an ecosystem of DeFi products to meet the industry's unmet needs but remain easy to use and access.
Alpha Finance Lab's first product was Alpha Lending, a decentralized lending protocol with algorithmically adjusted interest rates. Alpha Homora's leveraged yield farming platform is the second product launched by the platform, while AlphaX - a non-orderbook perpetual exchange product - is slated to launch in 2021. ALPHA is the platform's native utility token.
Token holders can earn a share of the network fees by staking ALPHA tokens to cover any default loans. Other usage examples for tokens include liquidity mining and governance voting. Alpha Finance Lab will implement governance through a decentralized autonomous organization (DAO) that allows ALPHA holders to vote on specific future Alpha products, and decide how they operate.
These governance procedures are divided into two levels: product-level governance and financial-level governance, giving the token holders great control over Alpha's future.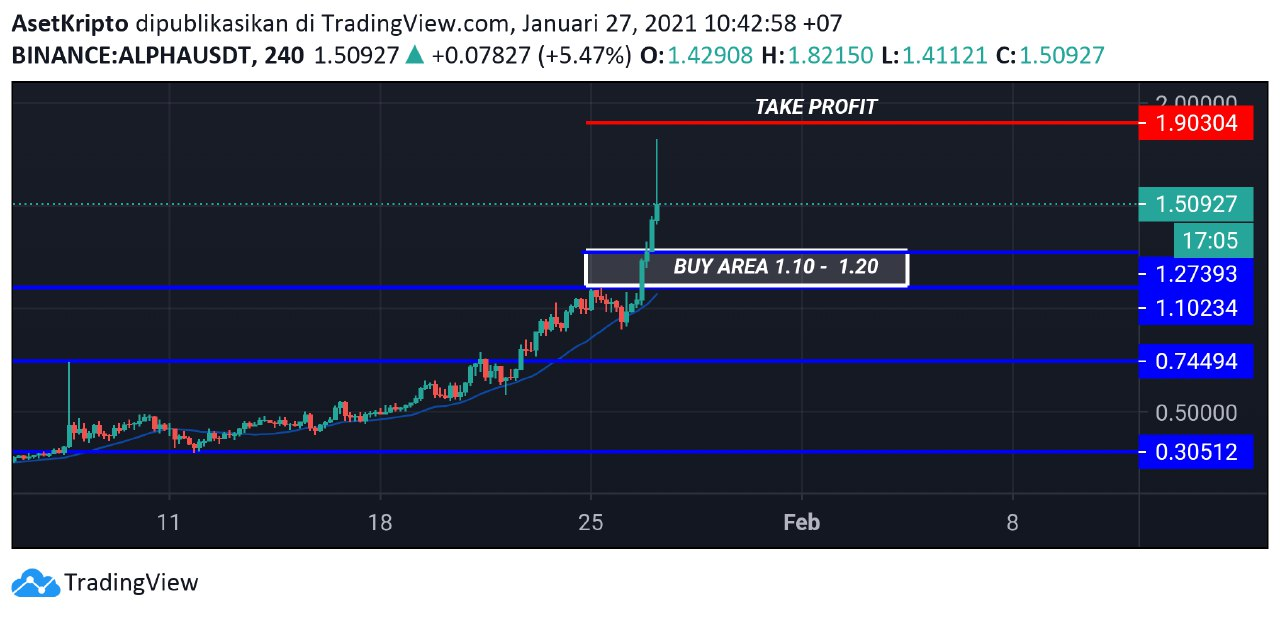 Highest price $ 1.10 / ALPHA
Lowest price $ 0.02570 / ALPHA
Current price $ 0.9823
Max supply 1,000,000,000 ALPHA
Total circulating 174,136,442 ALPHA

Last 30d: 543.9%
ATH: $ 1.08 | 25/1/21
Market capitalization rank 102
Data as of 26/01/2021
Updated Data: https://coinmarketcap.com/currencies/alpha-finance-lab/
What became interesting was when Alpha Finance Lab decided to cooperate with the largest commercial bank from Thailand, Siam Commercial Bank as an investor from Alpha Finance Lab.
At the time of the partnership announcement, ALPHA prices had jumped up 13.7% in the last 24 hours.
If you see opportunities in the future, where big banks like Siam Commercial Bank adopt DeFi and Alpha Finance Lab open partnerships for other big world banks. This can be an indicator that can push up the ALPHA coin.
At the beginning of trading until now, the price of the ALPHA coin on the exchange was able to increase by 3740%.

Rank: 103/110