Hello Tokonauts!
There is some information regarding fees for making transactions and withdrawals at Tokocrypto. Transaction fees are charged when you buy and sell assets (trading), deposits, and/or withdrawals. Let's check the details in the table below:
Fee transaction in Tokocrypto
No
Type Transaction
Type Asset
Fee
1.
Taker
all coins
0,1 %
2.
Maker
all coins
0,1 %
3.
Withdrawal
BIDR
Rp. 10,000,-
4.
Deposit via e-wallet (GOPAY, DANA, ShopeePay, LinkAja)
BIDR
2%
Tokocrypto does not charge crypto deposits made by users. Fees are charged for crypto withdrawal transactions and the fees can change at any time or fluctuate. You can check the updated fees by clicking:
Deposit and Withdrawal Crypto Fees
You can also ensure crypto withdrawal fees before making a transaction. Enter the withdraw menu and select the coin you want to withdraw, then select the network you want to use. Each network fee can be different, so make sure you have chosen the appropriate network first.
So, below is an example of what a withdrawal page looks like if you want to withdraw BTC coins using the Bitcoin network. In the red box appears "Transaction Fee" of 0.00025 BTC.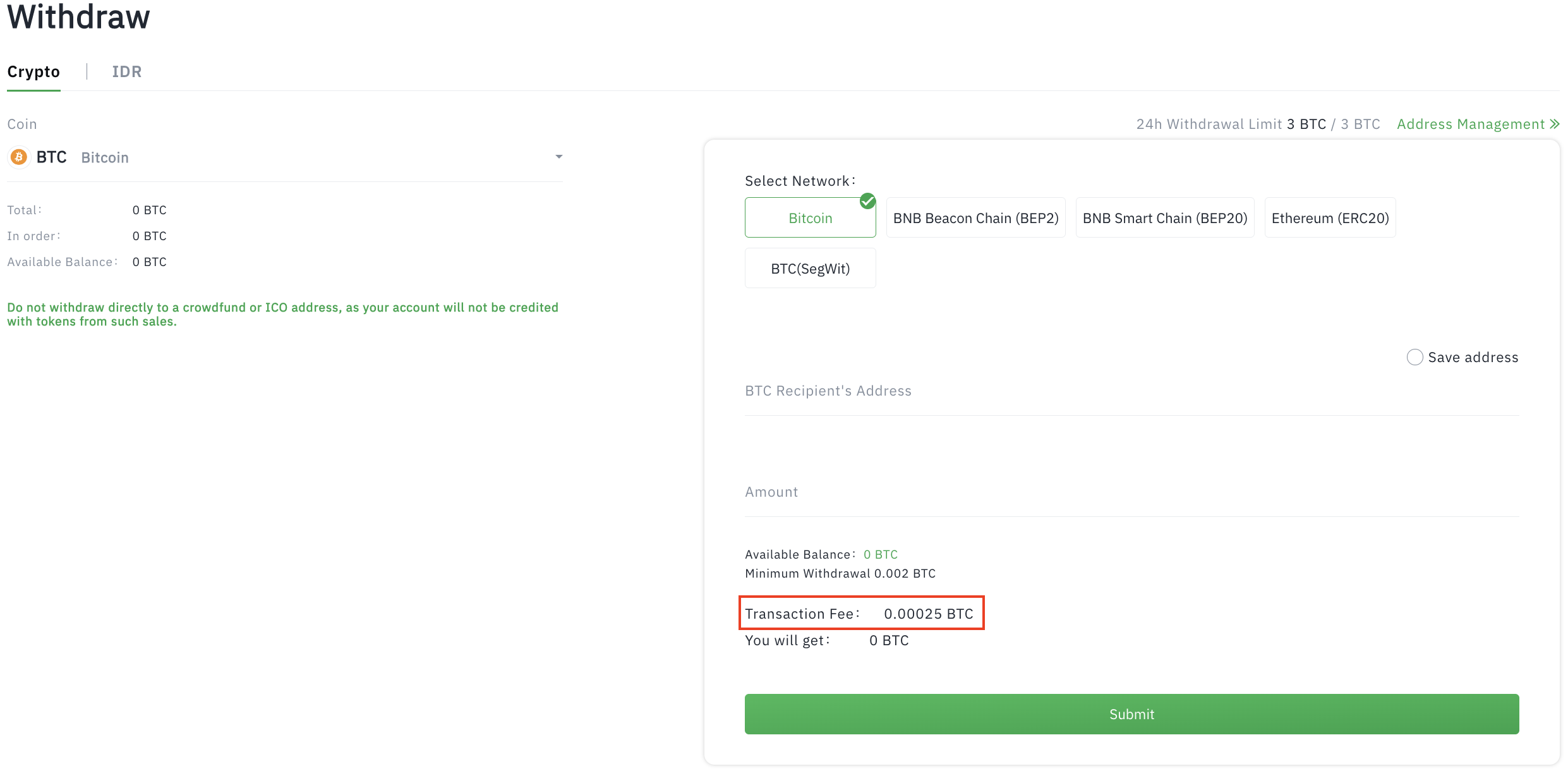 Hopefully the information above can help you understand the transaction fees that exist at Tokocrypto. If you're still confused, don't hesitate to contact our Support Team via Live Chat.
Have a happy transaction at Tokocrypto #SalamToTheMoon
---
Check us out at www.tokocrypto.com and follow us on social media for the latest updates and happenings.
Medium: https://medium.com/tokocrypto
Facebook: https://www.facebook.com/TokoCryptoExchange/
Telegram Official Channel: https://t.me/TokocryptoExchange
Telegram Official Group: https://t.me/TokocryptoOfficial
Twitter: https://twitter.com/TokoCrypto
Linkedin: https://www.linkedin.com/company/tokocrypto/
Instagram: https://www.instagram.com/tokocrypto/